by Shoshauna Shy
My personal inspiration to write poetry happened by ambush. I didn't make a conscious decision to sign up for a writing course or otherwise hunker down with pen and paper. It was merely a matter of coming across a poem somewhere, and having it take me into a poem of my own that I didn't even know I wanted to write. Because of this, I decided it would be exciting to get poetry out of the classrooms, bookstores and libraries into sight of the public-at-large where it might not ordinarily appear. Quite possibly, I thought, people who were convinced that they didn't particularly like poetry would find themselves unexpectedly caught up in a particular poem.
In 2004, I founded the Poetry Jumps Off the Shelf (PJOS) program.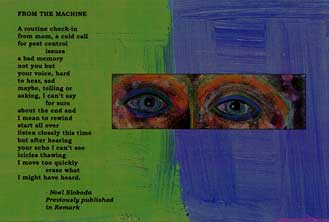 A friend with an affinity for the literary life offered financing. I partnered with a local business, Budget Bicycle, to bring poetry to the streets, seeking poems about bicycling, carpooling and other forms of
transportation. PJOS produced laminated bookmarks and attached them to the handlebars of Budget Bicycle's red rental bikes. Community Car, a Madison-based car-sharing company, also became a partner. PJOS published poems on the same topic in palm-sized vinyl books for the glove compartments of their car fleet. The next year, I conducted a call on the theme of the written word and the many modes of communication it takes, from text messaging, handwritten letters, and imaginary emails from Emily Dickinson to farewell notes written in bathroom steam.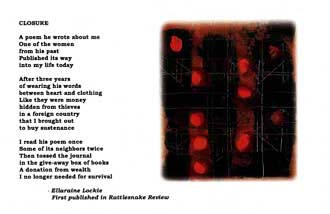 PJOS produced these "Postage Due" poems on java jackets and bookmarks distributed by two local coffeehouses and two independent book stores on and near State Street, Madison's major downtown hub.
Since then, I have conducted two other calls on the themes "No Direct Route Home" (poems that take the reader on surprising detours) and "Lines in the Sand" (poems that cross boundaries of any kind). PJOS paired poems with the original abstract art of Midwestern artist Sarah Spencer and produced them on 4"x 6" quality cardstock postcards.
All of the calls have been conducted via cyberspace and have yielded submissions from six different countries outside of the U.S. Every contributor to the last postcard project received ten of their own postcards plus several of the other poets' cards.
PJOS has made the remainder available free of charge at two poetry conferences, three Madison-area libraries, two grocery co-ops, a bakery, and three community centers. Look for them also in Pennsylvania, Kentucky, Arizona and Washington courtesy of the poets who participated in the project. (Contact shoshaunashy(at)yahoo(dot)com, for specific cities and locations.)
Bookmark www.PoetryJumpsOfftheShelf.com to keep tabs on the next Poetry Jumps Off the Shelf project. In 2009, I offered something new called the Woodrow Hall Jumpstart Award for a Wisconsin poet who had already contributed to the literary landscape and wanted help in launching a new program idea.I hope to offer this award again.
---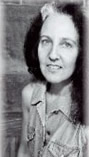 Shoshauna Shy is a member of the Prairie Fire Poetry Quartet.In May 2004, she founded Poetry Jumps Off the Shelf. Her poems have been published in numerous journals and magazines including The Seattle Review, Cimarron Review, The Briar Cliff Review, Rattle, Rosebud and Poetry Northwest. Her collection titled What the Postcard Didn't Say won an Outstanding Achievement Award from the Wisconsin Library Association in 2008.
Poetry Jumps Off the Shelf contributors to this page:
Artist Sarah Spencer writes: "The postcard project has been very rewarding. Pairing poetry with art was an insightful and enjoyable experience. I used my abstract paintings and magnified them to different degrees creating another abstraction altogether. You're only seeing a portion of the original work. I'm grateful to Shoshauna for asking me to participate in this unique project."
Jan Chronister currently teaches English part-time at three colleges, which leaves little time for writing. She looks forward to summer and the School of the Arts in Rhinelander where this poem was written. [Chronister's chapbook, Target Practice, is reviewed in this issue.]
Ronnie Hess' poetry has appeared or is forthcoming from Alimentum, Albatross, Arbor Vitae, Poetica, Tipton Poetry Journal, and Wisconsin People & Ideas. She is the author of a chapbook, Whole Cloth: A Poem Cycle (Little Eagle Press, 2009). [Whole Cloth is reviewed in this issue.]
Ellaraine Lockie has received eleven Pushcart Prize nominations. She's been the recipient of multiple prizes but among the coolest is her first place in the Summer Shark Poetry Contest from the Aquarium of the Pacific. She's authored seven chapbooks, serves as Poetry Editor for Lilipoh, and teaches poetry workshops. She visited Appleton last summer and met many WI poets with whom she's corresponded and collaborated. [Another poem by Lockie appears in Verse Wisconsin magazine, and you can hear her reading online.]
Amy MacLennan has been published or has work forthcoming in Hayden's Ferry Review, River Styx, Linebreak, Cimarron Review, Folio, and Rattle, as well as in the anthologies Not a Muse and Eating Her Wedding Dress: A Collection of Clothing Poems. Her ties to Wisconsin include her previous publication in Wisconsin Review, her high school best friend's Wisconsin accent and her great respect for the Packers.[Two poems by MacLennan also appear in VW Online's Doors & Windows section.]
Derek Mong was born in Portland, Oregon, raised outside of Cleveland, and currently lives in Louisville, Kentucky where he holds the 2008-2010 Axton Poetry Fellowship at the University of Louisville. In 2006-2007 he was the Jay C. and Ruth Halls Poetry Fellow at the University of Wisconsin-Madison. In 2011 Saturnalia Books will publish his first collection of poems. You can read more at www.derekmong.com.
Susan Rich is the author of three poetry collections, The Cartographer's Tongue (2000), Cures Include Travel (2006), and The Alchemist's Kitchen (2010). She has received awards from PEN USA, The Times Literary Supplement, and Peace Corps Writers. Her recent poems appear in the Antioch Review, Harvard Review, Poetry International and TriQuarterly. Visit her online.
Noel Sloboda lives in Pennsylvania, where he teaches at Penn State York and serves as dramaturg for the Harrisburg Shakespeare Festival. He is the author of the poetry collection Shell Games (sunnyoutside, 2008).[Sloboda also reviews James Crews' One Hundred Small Yellow Envelopes in this issue of VW Online.]
J.R. Solonche is coauthor—with wife Joan I. Siegel—of Peach Girl: Poems for a Chinese Daughter (Grayson Books). His poems have appeared in numerous magazines, journals, and anthologies since the 1970's. He teaches at SUNY Orange in Middletown, New York.