Three Poems & Three Collages
Waiting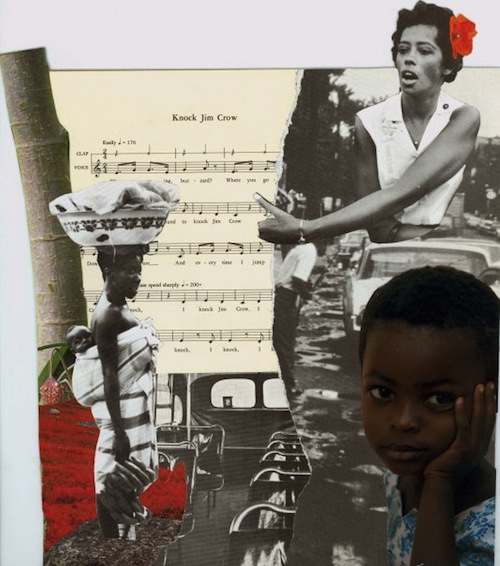 When Blk Boys Enter Corner Stores in South Central Los Angeles
For the Riots
Korean owners still meander
down the aisles, shadow brown,
over-grown boys swallowed whole
by their blk hooded sweatshirts.
These boys, all graffiti-armed
and night-owled share the battered
look of a King named Rodney.
Their matchstick stride favors
the aroma of some thousand
buildings burning. Makes Koreans
nervous. Makes them trot behind
the register and finger their pistols.
Makes them turn a blind eye
to the boy jamming cheetos
into his empty backpack.
Makes them remember
Latasha and return the gun
to its safe. They forgive these
youngsters, looting to survive
and rebel. The Koreans wait
to ignite, for riots to call their own,
a new civil unrest.
Reparations or Morsecoding Signals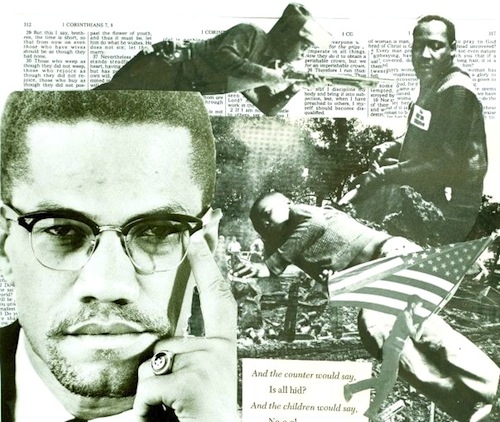 Blk Boys: Interahamwe (those who stand/work/fight/attack together)
FADE IN:
EXT. KIGALI, RWANDA 1994- DAY
SERIES OF SHOTS
see Blk boy see Blk boy run
him machete a cleaver n him
lil hand watch him splinter
a body wit one swing look
him kill five five times five
times quicka den a Nazi
INTERCUT WITH:
RADIO RWANDA PERSONALITY (V.O.)
800,000 to 1 million Tutsi cockroaches have been slaughtered in just 100 days!
CUT TO:
EXT. KAGERA RIVER- DAY
CLOSEUP- RIVERBANKS
dem Tutsis be a backwards Moses
cradled n de wata afta dey carcassed
n moldin see dem float? backstroke
down Lake Victoria all bloated n blue?
dem Tutsis be a smoke signal
for dey neighbors
CUT TO:
INT. LAMWO, UGANDA IDP Camp 1997- DAY
After the Lord's Resistance Army massacres 400 Acholi northern Ugandan civilians, 100,000 displaced Acholi people take refuge in a room the size of an average cabin. Two thirds of the population's right appendages have been axed. In the furthest right corner, a thirteen year-old Acholi girl seduces a soldier in hopes of securing more food for her family.
CUT TO:
EXT. MONROVIA, LIBERIA FISHMARKET 2003- DAY
SERIES OF SHOTS
see dem ladies dem mamas
n grannies dem barren
aunts dem bitta
sistas knew it wud take Jee-zuz
n Allah to save dey Black boys
from Chuck Taylor got dem babies
rapin rapid makin husbands watch sing
sing wile dey watch a dark bravado
n pistol fixed on dey backs
makin dese womyn dress n white
gather togetha n erbody's name and sit
at de foot of de market at risk
of bein gutted like de fish
bought for dinna
CUT TO:
EXT. CHICAGO, ILLINOIS 2011- DAY
Chi-City be a dead church
aint none of its Blk chirrun saved
aint none of its Brown boys exempt
from not wakin up all de grown folk
be sleep too busy preyin
on makin ends meet need to straighten up
n fly right need to straighten up—
mayor who?—straighten—reverend what?
Tremon n Anamica Hill?
dey dead?—straighten up
n fly
right?
INTERCUT WITH:
INT. HOUSE/APARTMENT, ANYWHERE 1998- DAY
Bill Clinton apologizes for the UN's unresponsiveness to the Rwanda genocide. He uses the term "genocide" eleven times in his apology. Clinton only spends three and a half hours in Kigali. He remains on the airport turf. The engines of the Air Force One are never shut down.
CLOSEUP- AIR FORCE ONE PROPELLER
EXTREME CLOSEUP-AIR FORCE ONE EXHAUST PORT
FADE OUT.
Steal Up Young Lady 1963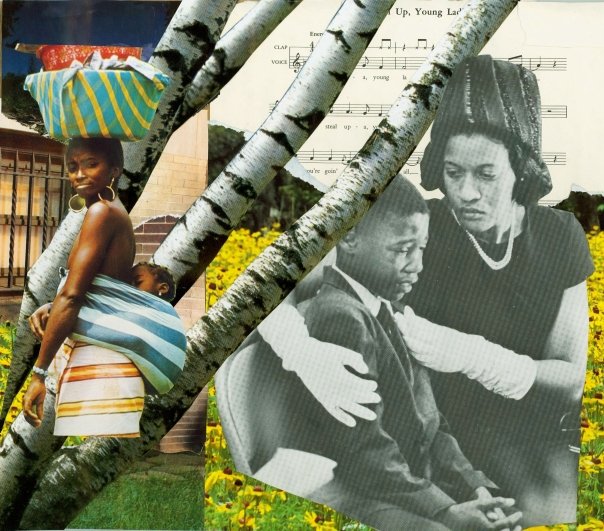 Norplant: A Eugenist's Dream*
And so what if nigger women flex
keloids over their biceps, claw-like
and rubbery? I hear they are familiar
with bone feeling; they have a knack
for remembering pain undue to them.
Niggers are still waiting for some odd
number of acres and a mule to haul
their asses from the ghetto and welfare,
WIC offices and unemployment lines.
It's bloodcurdling, the legions of niggers
coveting our tax dollars to feed their snot-
nosed darkies. We should buy niggers,
not raise them. They should be thankful
we're extending this grand opportunity
to curb their excessive childbearing.
It's not genocide we're after,
just a pure country. We've got enough
niggers. After all, they're the beneficiaries.
It's easy. Offer nigger women bonuses
for attaining the implant. Six capsules
lodged into their arm; we know how
much they like new things thrusted
inside their obtuse build, all Hottentot
and beefcake. Say it's only for five years—
they'll never know we mean forever.
And when they bemoan the ten spare days
of bleeding, the abrupt cyst, or tumbleweed
of hair in their hands, we'll remind them
of those benefits they coddle so grotesquely,
let them fish the tablets out with razor
blades or the pocketknives in their purses.
Niggers couldn't possibly have thought
their exit was so easy. Don't they remember
the door of no return?
—SaneleVox, Madison, WI
*"From Norplant to the Contraceptive Vaccine" from Killing The Black Body by Dorothy Roberts, 1997.