Wisconsin Poetry News
Friends of Lorine Niedecker Receive Grant from the Poetry Foundation
By Ann Engelman

Photo of Lorine Niedecker used with permission, Hoard Historical Museum.
The Friends of Lorine Niedecker were surprised by an unsolicited $5,000 grant from the Poetry Foundation.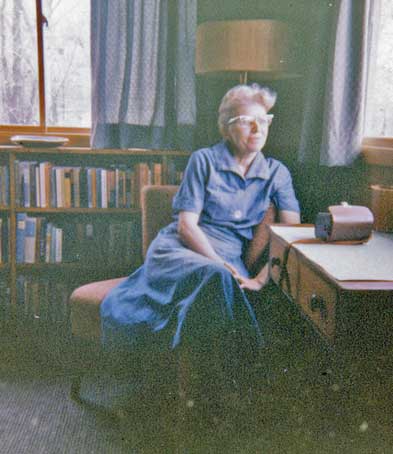 The Poetry Foundation, publisher of Poetry magazine, is an independent literary organization committed to a vigorous presence for poetry in our culture. It exists to discover and celebrate the best poetry and to place it before the largest possible audience.
I almost deleted the e-mail not knowing the name of the sender but the message had "poetry" in the subject line. After I read the words "The Poetry Foundation is pleased to provide the Friends of Lorine Niedecker with $5,000 in general support of its poetry programs," I just stared at the screen. . . .I could only think that maybe they would like one of our bookmarks, such a small, condensed thought compared to such a generous gift.
This is a great honor for us. The Poetry foundation contributes to the PBS Newshour and Garrison Keillor's "Writer's Almanac" on NPR. They do not accept solicitations. We are not sure how or who or when we came to their attention but suspect the Lorine Niedecker Wisconsin Poetry Festival last fall might have helped. We really don't know. We feel this grant helps to validate our poetry activities on behalf of Lorine Niedecker and Wisconsin poetry and will help us think creatively about our programming goals.
The grant helped the organization elevate thinking to another level. The board acknowledged the need for strategic planning and asked Karen Goeschko, Assistant Director, Programs and Services for the Wisconsin Arts Board and manager for their grant programs to facilitate.
The day-long gathering generated four program priorities for our focus.
1) The center from which the Friends of Lorine Niedecker extends globally is the Web site. Our limited resources and, generally, those of students and scholars necessitated access as the priority. We are blessed with Lorine's personal library and the Hoard Historical Museum that safely curates papers and artifacts and has a room dedicated to her memory. Most of the papers, pictures and scrapbooks have been digitized for Web access. The site was generated in 2004 and has grown to accommodate more research, resources, and the Solitary Plover newsletter which has become a venue for poets to publish. The site is in need of an update.
2) Getting Lorine Niedecker into the schools has been a frustrating exercise. We created a high school curriculum meeting Wisconsin standards, announced its availability, attended teacher conferences and partnered with the University of Wisconsin-Extension's Ide@s Web site for teachers. The unit includes a video component. What we learned is that teachers are very busy with their current requirements. In discussions with the Wisconsin Humanities Council we are hoping to identify qualified people to take a poetry unit into the classrooms directly.
3) The Friends of Lorine Niedecker have included arts and music into their programming. With funding from the Wisconsin Arts Board, we recently commissioned an artist to create a Poetry Wall on a busy street corner in downtown Fort Atkinson. We would like to continue to commission poetry installations.
4) The Lorine Niedecker Wisconsin Poetry Festival launched last year with great success. The goal of the Festival is to celebrate poetry in Wisconsin and to introduce Lorine Niedecker to a wider audience. We plan to continue the Festival to generate support for poets in Wisconsin. This year the Lorine Niedecker Wisconsin Poetry Festival will be held September 25, 2010. This was originally meant to be a biennial event but the board felt that the success and momentum created last year should continue.
The Friends host researchers and scholars regularly. We often hear, "I never knew about Lorine Niedecker and I have become captivated by her poetry and her story." Lorine Niedecker was born May 12, 1903 and grew up near Fort Atkinson on Blackhawk Island. She is often called "a poet of place." During her lifetime of writing poetry she was influenced by the sounds around her from nature and human speech, reading and correspondence with peers. The simplicity of her images helps us sense our own experiences with the elements around us. Her words weave the textures of her culture, family and neighbors. She has secured her place among the Objectivist poets and appreciators of poetry. Though she is known nationally and internationally, Wisconsin is still discovering her.
My Life By Water

My life
by water-
Hear

spring's
first frog
or board

out on the cold
ground
giving

Muskrats
gnawing
doors

to wild green
arts and letters
Rabbits

raided
my lettuce
One boat

two-
pointed toward
my shore

thru birdstart
wingdrip
weed-drift

of the soft
and serious-
Water
We feel a parallel kinship with the Poetry Foundation. In 2003, they were also surprised. Ruth Lilly, the sole living heiress to the Eli Lilly and Company pharmaceutical fortune built by her grandfather, Colonel Eli Lilly, was the generous philanthropist. Over the course of her life, Lilly gave away the bulk of her inheritance, an estimated $800 million. She made headlines in November 2002 when she pledged stock worth $100 million to the Poetry Foundation, then a tiny, obscure Chicago non-profit organization. Lilly died on Dec 30, 2009 at age 94, 39 years (less one day) after Lorine died on December 31, 1970.
The Friends of Lorine Niedecker hope to grow the legacy of Lorine through the celebration of poetry in Wisconsin.
Ann Engelman is the President of the Friends of Lorine Niedecker. Read about a newly discovered poem by Lorine Niedecker in this issue of VWOnline.